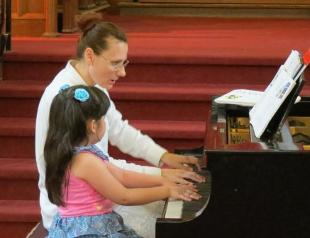 Being born and brought up in the family of educators, Lana Tchernaia also followed the noble profession of teaching. She is the third generation teacher following her grandfather Yuri I. Tchernyi (1900-1985), and aunts Tatiana Y.Tchernaia (1941-), and Lana Y.Tchernaia (1931-).
Lana hails from Siberia, Tomsk region (Russia). She received a Bachelor of Music in Piano Performance and Pedagogy from Tomsk Music College, Russia. She studied ensemble, and chamber music with Svetlana Anatolievna Chudakova, harmony with Vera Dmitrievna Sherina, and music history with Larissa Borisovna Gorn. Post-bachelor studies include Tomsk State University, music and philology.
She had the great privilege of taking a sight-reading course with world renowned performer and music educator Andrew Markow, head designer of the Royal Conservatory of Music curriculum, and co-author of the Four Star Sightreading Books. Vera Leinverbers also was among Lana's canadian coaches.
Lana has been committed to the important role of independent piano studios. She has maintained independent teaching studios in Tomsk, Russia; Montreal, Quebec; and Toronto, Ontario collectively for more than 25 years.
Throughout her career, Lana's teaching combines the tradition of the Russian piano school with her own developed pedagogy approach and practice techniques. Her students continuously receive recognition for professionalism and high level of performance.
Five of Lana's students have become piano instructors in GTA.
Ongoing education is an important part of the piano teacher's life. She actively attends workshops and programs, and has developed her own method for piano beginners.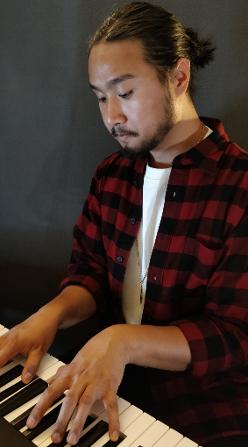 Jotham is a pianist/producer currently studying jazz and popular music genres in the Bachelor of Music
program at Humber College. Here he studies under some of Canada's most prolific pianists such as Robi
Botos, Amanda Tosoff, Adrean Farrugia and Gordon Sheard, as well as some of Canada's leaders in audio
engineering such as Justin Gray, Andrew Mullin and Ben Ewing. Prior to his studies at Humber College he
has also studied at the University of Toronto's Bachelor of Music (Classical) program where he has
studied with Larysa Kuzmenko, Gary Kulesha, Boyanna Toyich and many other great musicians.
Drawing from this wide breadth of experience Jotham utilizes a variety of skills to his musical approach
such as the improvisational techniques required to perform in the jazz idiom, the technical knowledge
required to produce music in a digital audio workstation or the music theory required to analyze the
classical literature. This ability to adapt to various musical genres and settings is not only crucial to his
involvement in studio projects and musical performances but, vital to his approach to music pedagogy.
To Jotham, adapting to the needs of his students is by far the most important skill to have whether their
objective is RCM examinations, songwriting, music production, or improvisation. Through clear
communication with his students about their musical pursuits Jotham organizes customized lesson plans
to suit their needs. With a firm belief in keeping an open mind and providing a safe space for learning,
Jotham goes to great lengths to keep a positive, relaxed and encouraging relationship with his students.
Vicente bases his classes on my student's goal. As an experienced teacher and session musician, he provides a personalized lesson plan that focuses on student's objective, be it having fun, going through RCM grades or getting ready for your next gig. Throughout his 10 years teaching experience Vicente developed a relaxed and comfortable approach to teach both adults and kids of any level.
He understands the necessity for different people to learn different things to keep the interest going. Positive, enthusiastic and full of skills and knowledge.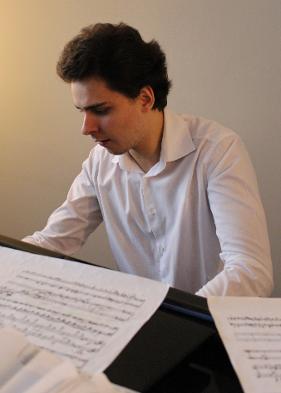 Oliver started his piano studies with Rhuza Schochmannova of the Conservatory Arrigo Boito in Parma, Italy. He later moved to Toronto and completed his ARCT Diploma in Piano Performance, studying with Peter Longworth. He was awarded the Royal Conservatory of Music's Gold Medal for Grade 10 Piano in 2014, and placed second in his age category at the 2016 Canadian Music Competition national finals with a performance of Grieg's Piano Concerto no. 1. He later completed his Bachelor of Music in Piano Performance at University of Toronto in 2022, studying with Prof. Enrico Elisi. He plays classical repertoire at venues around Toronto, and has given concerts in Italy and Central Asia. Awards: National Finalist at the Canadian Music Competition, 2014, 2016 and 2019, Second Place in 2016 for Grieg's Piano Concerto
Gold Medal for Piano Grade 10 at the Royal Conservatory of Music (2014)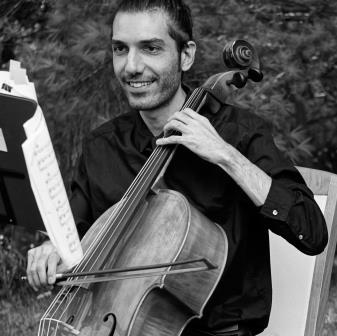 Afshin has over a decade of experience teaching cello, violin, viola and piano in group and private lessons, providing comprehensi
ve music instruction. His students participate in performances, recitals, and community events.
Afshin published a lesson book called Cello Riffing, an advanced method that uses jazz
/rock/blues riffs to strengthen left-hand technique. He prides himself on creative, interesting methods and ideas to keep students engaged in their studies.
As an official certified Advanced Orff Instructor, his mission is to introduce musicianship to young students in a fun, creative way, involving them in the process of music making in an enjoyable way.
Afshin's special interest in the production of music for children resulted in a music album entitled "Childhood Desires", which simplified some of his favorite rock/metal songs by rearranging them into pieces played on Orff instruments.
He pushed this project forward, and also compiled the repertoire book "Childish Minimals" where he arranged some of the songs from the album so that young students could easily play and enjoy them.
He pushed this project forward, and also compiled the repertoire book "Childish Minimals" where he arranged some of the songs from the album so that young students could easily play and enjoy them.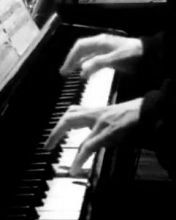 Suzanne is a piano teacher with training and certification of Piano Performance and Pedagogy from Vietnam. With almost 30 years of teaching experience in Canada she prepared hundreds of students for conservatories exams and GTA competitions. These rewards are a direct result of understanding children's educational needs.
She is very discipline, reliable and committed when working with children. This is complimented by her knowledge of playing violin and singing. Suzanne firmly believes that the most important quality that a teacher should have is patience and at the same time a great teacher should have set high expectations and work to raise the bar for their students.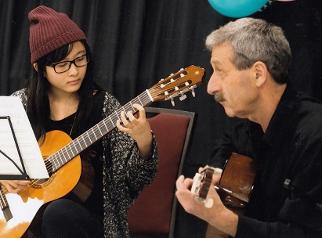 Aharon is a
highly sought-after music teacher by students and parents of students who excel in their guitar playing performance and want to advance their music career. Aharon has over 35 years of experience.
His biggest joy is seeing her students' progress into fine musicians. Aharon prides himself in teaching each student a well-rounded musical education through knowledge of note reading, tab reading, chord reading, ear training, rhythm studies, scales, theory, musical construction and improvisation. Some of his students have received scholarships and have gone on to peruse careers in music but most of the students that want to learn guitar just want to have fun and a positive experience.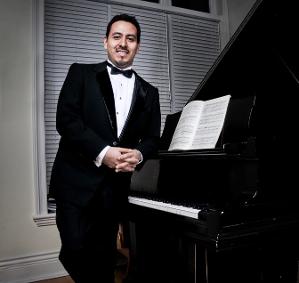 Miguel's impressive list of degrees include:
● University of Toronto. Master of Music in Collaborative Piano Performance, 2018
● University of British Columbia. Master of Music in Piano Performance. 2012
● Rotterdam Conservatory of Music, The Netherlands. Advanced Classical Music Diploma in Piano. 2005
● University of Houston, Texas, USA: Bachelor of Music in Piano Performance, Cum Laude. 2001
● Trinity College of Music, London, England: Performer's Certificate Examination. 1998
He has been teaching piano for the last 9 years both privately and at various music schools and is highly qualified to teach students from as young as 4 to any age on all RCM levels.
Miguel believes the most important goal in piano lessons is fostering an enjoyment for music that lasts a lifetime. In order to nurture and develop that appreciation for music—not just piano specifically—he believes students need to become musicians in their own right.
To teach a student to become a musician, Miguel constantly strives to cultivate excellence in everything that's done in piano lessons and teaches the concepts needed to be a sensitive musician; the proper balance between melody and accompaniment, accurate reading of notes and rhythms, and proper fingering for the best musical sound followed by ease of execution.
He believes another area we want our students to excel at is reading. The ability to read music quickly and effectively will help the student learn music on their own, furthering and maintaining their enjoyment and ability to play music even after lessons have stopped.
Good technique is also a point of emphasis so that the possibility of struggles with a piece due to technical deficiency will lessen in the future.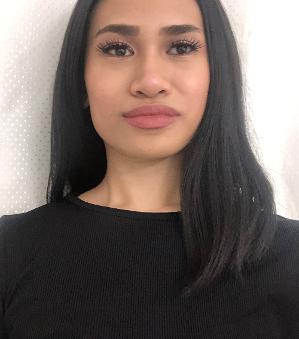 Claudette is currently studying music at
York University. With a special interest in classical music education, she began teaching
piano and theory lessons at the age of 17. She is also a part of her Church's Worship team
and Church band, known as In the Valley, and has performed in several concerts, which
have included some of her original songs. Claudette also has a passion for performing
Gospel Choir music and Celtic Canadian Folk music, and composing and songwriting. She
believes encouraging students, and building student- teacher relationships are very
important in music pedagogy.
Scott is a performer/teacher based out of Toronto, ON, and is quickly becoming one of Canada's renowned young classical guitar players. With a unique voice on the instrument and five years of teaching experience, Scott has taught and played many styles including Rock/Metal, Blues, Country, Jazz and most notably Classical. Scott has studied with many great guitarists including
Dr.Ian
Hodges in Winnipeg, Rob Macdonald at the University of Toronto and currently, Scott studies with
Dr.Jeffrey
McFadden at the University of Toronto. Outside of this, Scott has participated in masterclasses with some of the
worlds
greatest classical guitarists/
pedagogs
including Jason Vieaux, Robert Hamilton and Rene Izquierdo. From many lessons and masterclasses, Scott has developed a well refined pedagogical method of his own for teaching the classical guitar to students. For non-classical genres (any electric/acoustic style), Scott has developed another teaching method to help students excel in their
favourite
genre.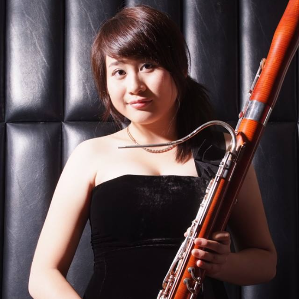 Dr. Yu-Cheng offers proven specializations in Bassoon, Piano, Chamber Music, and Theory with experience in multi-level instruction, lesson planning, and curriculum design and development, as well as the implementation of innovative learning methodologies to translate complex musical concepts into easy, accessible instruction.
Consistently achieving stellar results due to her knowledge of individualized and group teaching practices she is well-versed in parent/guardian relations, conflict resolution, and communications while continually promoting diversity, equity, and inclusion within an instructional setting.
To complement this experience, she completed Bachelor of Music from University of Taipei, attained a Master of Music from Mannes School of Music, The New School, and Doctor of Musical Arts in Bassoon Performance from Rutgers University, Mason Gross School of the Art.
Throughout her career, she has excelled in instrument instructional roles for all ages across various private and/or public learning environments, where she successfully analyzed students' individual skill levels to plan, prepare, and deliver dynamic lessons based on a results-centric curriculum
.
During this time, Dr. Yu-Cheng objectively assessed students' progress toward desired milestones while engaging with individuals and their parents/guardians to
identify
potential challenges and ensure ongoing communication to overcome obstacles
.
She also continually exemplified patience and flexibility with students to empower and support a highly motivated, student-centered environment. In addition, she
has
excellent exam/ audition preparation skills, and my students' performances have remarkably improved as a result. Besides teaching at elementary school, she played the role of an accompanist for the school choir and recorder team and prepared the students for the choir and recorder competition.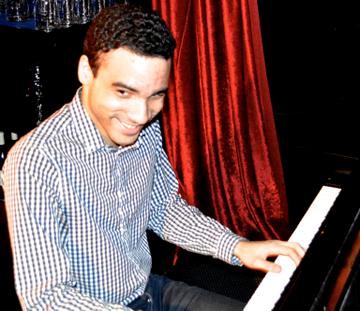 Patrick is a rising star in the Toronto Jazz scene whose energetic, virtuosic playing captivates and moves his audiences. Drawing on the vast vocabulary of the legendary jazz pianists who came before him he adds his own spirit and passion to create a unique sound and style. Studying under the tutelage of legendary pianists such as Mark Eisenman, Brian Dickinson, Richard Whiteman, Robi Botos, and Hilario Duran it's no secret where Patrick developed his unique, high-octane style that clearly adheres to the art forms tradition. Patrick began studying classical piano at the age of four and was later introduced to the saxophone where he developed a great love for jazz. His education includes York University and Humber College and he is a recipient of the Berklee World Tour Scholarship for both sax and piano.
Performances include many venues in Toronto and throughout the globe with such artists as: Ron Westray,
Molly Johnson, Luis
Mario Ochoa, Ted Quinlan, Mike Downes, Kelly Jefferson, Barry Romberg, Lorne Lofsky, Artie Roth, Kieran Overs, Mike Murley, John Macleod, Anthony Michelli, Chicago's Ernest Dawkins, and many many more. He has played for such organizations as: Scotiabank, Via Rail, The Peel District School Board, York University, The CAW Auto Union, and has played at venues such as: The Rex, The Jazz Bistro, The King Edward Hotel, and many festivals globally. Patrick was recently rated one of BlogTo's top 5 upcoming jazz artists in Toronto.
To play or not to play is out of the question:
Whether 'tis ok for the mind to suffer
The inability to improvise and use one's ear,
Or to take arms against a sea of notes,
And by the mental effort play them?
Lana and William
The Virtuoso By: Una V.
©2012
The last note has been played,
By me, "The Virtuoso".
Every last,
Beat,
Rest,
Chord,
Has been practiced at least a thousand times.
And yet,
Every time I walk into the
Cold,
Dark,
Room,
I feel like a beginner again.
A different examiner every time,
But they're all equally terrifying.
Did I make an impression?
Did they like me?
It doesn't matter,
They can't play my thoughts like a song,
So they just keep on typing.
Click,
Click,
Click.
I sit on the bench,
Hands sweaty, yet freezing.
And my heart keeps beating,
To the beat of the metronome.
My parents are in the same building,
But they're sitting comfortably in the waiting room.
Will I join them soon?
"20%, 30%, 40%,"
Keeps ringing in my eardrums.
But I want more!
But now, the clicking has stopped.
"Congratulations,"
Smiles the examiner, handing me my certificate.